Hi there!
Here's the latest feed from
Gizmodo
.
Add feeds@feed2email.net to your contact list to make sure you receive all your emails
Make sure to visit feed2email.net to get more feeds sent to your inbox.
To find out which feeds you are subscribed to, or to get further help, just reply to this email.
---
Jun 01, 1:00AM
I bet I can guess the first thing that comes to your mind when I say Cloverfield: "SHAKY CAAAAAM!!" It's so excessive it can be a little bit of a problem, and some endeavoring internet hero tried to fix it. The result is a Cloverfield that's unwatchable in a completely different way.
---
Jun 01, 12:00AM
Ugh, love songs are so sappy, right? Usually! But every once in a while there's a glorious exception. Something full-to-bursting with a vital vibrancy. Something earnest and cute without being lame. Dear and the Headlights' "I Just Do" is one of those songs.
---
May 31, 11:00PM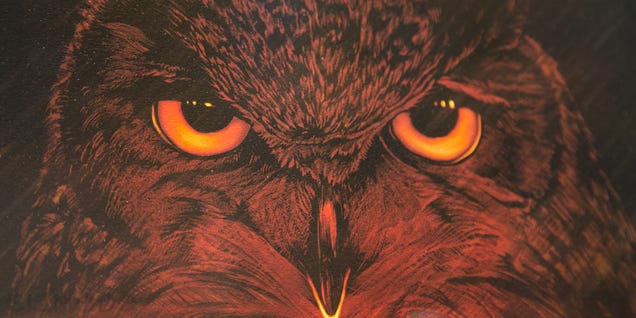 Not long ago we covered an Indiegogo venture that was too good an idea not to let the world know. Six months later Moments Lost: A Blade Runner Tribute has come to complete fruition and it brought some really succulent Blade Runner fanfiction along with it.
---
May 31, 10:00PM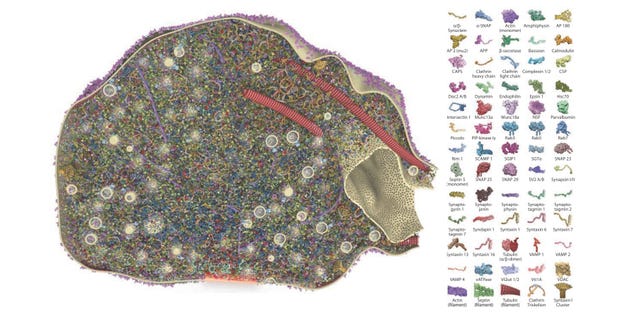 Without synapses, your neurons wouldn't be able to communicate and your brain would be little more than a ball of meat. Exactly what synapses look like has been a mystery until now, and it turns out that even though their job is simple, they're complicated as hell.
---
May 31, 9:00PM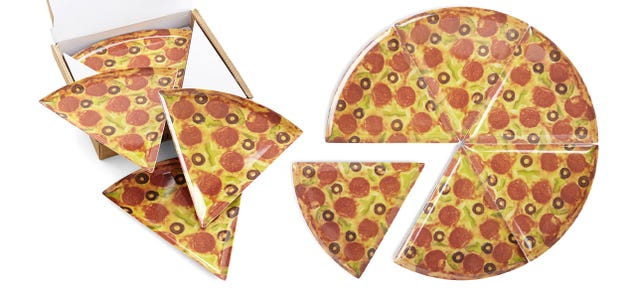 Paper plates might be ok in a barbecue scenario, or for serving birthday cake, but a greasy pizza will make short work of what little structural integrity they had to begin with. When a slice of pepperoni pie is on the menu, there's no better way to serve it up than on a set of these pizza graphic plates.
---
May 31, 8:00PM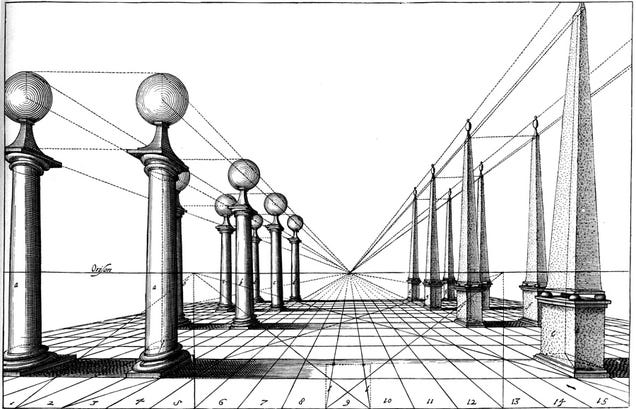 The roots of CGI lie in the first mechanical aids to drawing and painting. The earliest of these were developed to help solve a problem every artist has found to be sticky: perspective.
---
May 31, 8:00PM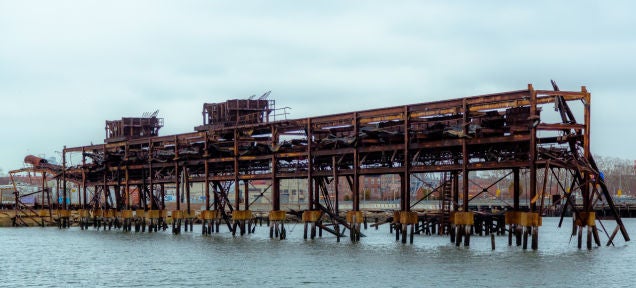 This week in tech reads: What really happens when you shock a dead brain with electricity, the real science behind the summeriest sci-fi movies, ex-Lulzsec hacker walks free, and more!
---
May 31, 7:00PM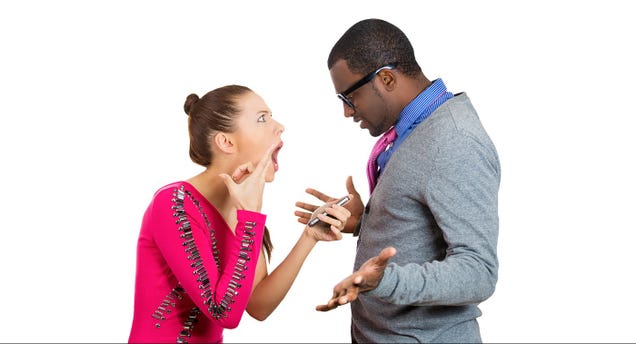 If you've ever disabled the PIN on your lock screen (hi, hello), or lent your phone to someone, you know the feeling. Oh shit I left my phone in there with them! I hope I don't have anything embarrassing on there. Shit, did I leave that tab open? It's OK. I can trust them, right? Can I trust you? Time to fess up.
---
May 31, 6:00PM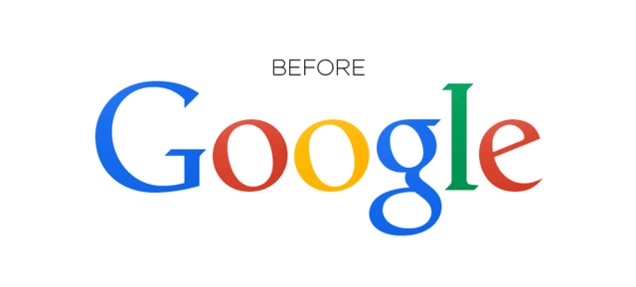 WWDC is on the horizon, and we're waiting with bated breath about what iOS 8 might bring. But in the meantime Google tweaked its logo ever so slightly, Apple bought Beats f'reals, we tried out the Surface Pro 3, pondered pink slime, and saw some new self driving cars. Check out all that and more below!
---
May 31, 5:00PM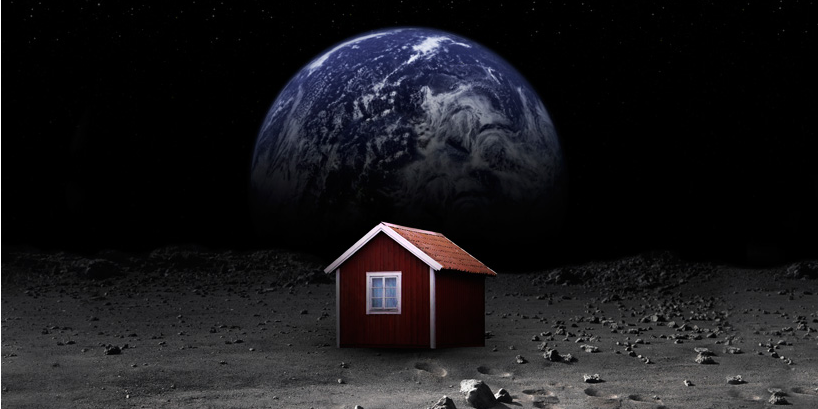 There's no end to fantasies about living on the moon. Actually possible moon bases , fictional Nazi moon bases , insane Newt Gingrich moon bases . Swedish artist Mikael Genberg has a more modest goal: one, tiny, uninhabited lunar house by 2015.
---
May 31, 4:00PM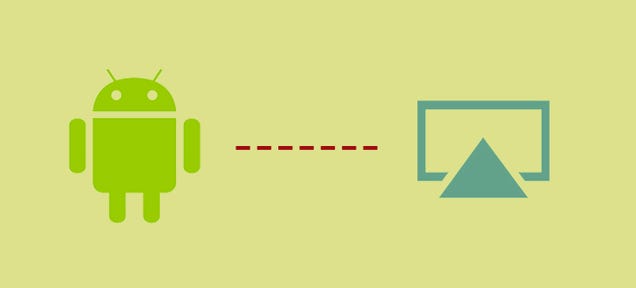 The AirPlay wireless streaming system makes sharing stuff between your phone and TV incredibly easy—but only if stick with Apple gadgets. Try to share content from an Android and suddenly you're out of luck. But with these third-party streaming apps, Airplay and Android can finally speak the same language.
---
May 31, 2:00PM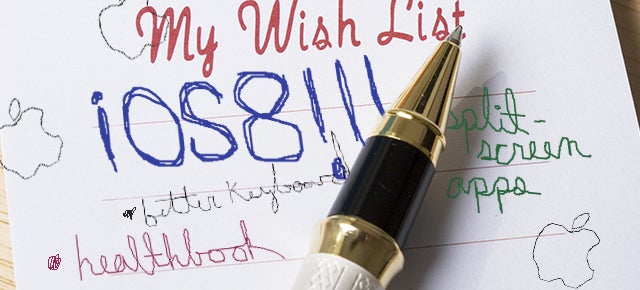 Over the course of the last year, we've debated, accepted, and ultimately learned to enjoy iOS 7 , but that doesn't mean we're not ready for another round of improvements. Here's what we're hoping to see when Apple shows off iOS 8 next week.
---
May 31, 1:00PM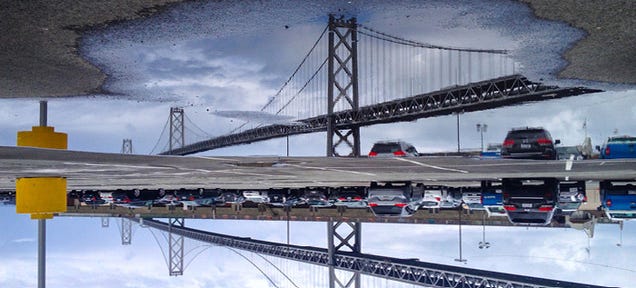 San Francisco's got a beautiful skyline, but Angela May Chen prefers looking towards the pavement for a crystal clear view. The designer and photographer captured some of the city's iconic (and lovably hyper-local) sights reflected perfectly in puddles after good hard rains then flipped the pics, resulting in a series that is a delightfully funky mind-fuck.
---
May 31, 1:00PM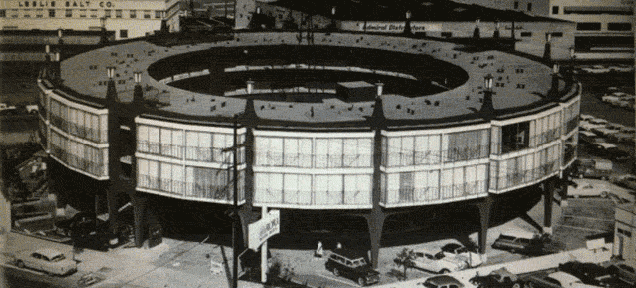 Apple's new Cupertino HQ promises to be an ultra-modern hub of highly considered, state-of-the-art design. But was this UFO-beamed-down-from-the-future actually inspired by a architectural relic from the Bay Area's past?
---
May 31, 4:00AM
Thanks for reading, everybody, but After Midnight is being retired. We'll still serve up the weirdest things we find on the Web for your enjoyment, just no longer at midnight. Now stop fucking around on the Internet and go do some psychedelics.
---
May 31, 3:48AM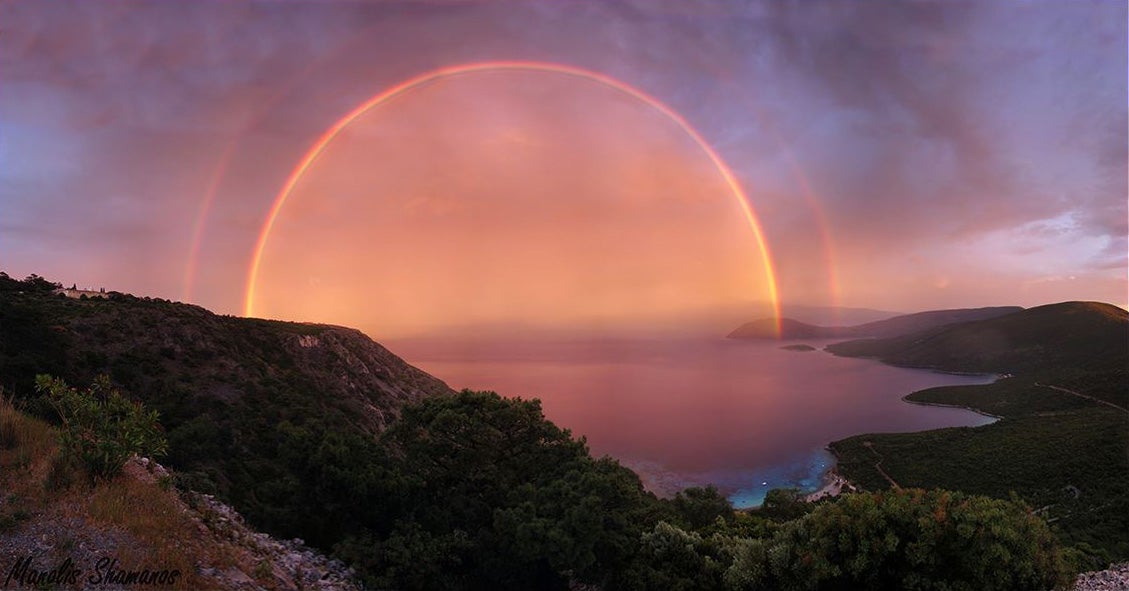 The Earth Science Picture of the Day is featuring this spectacular photo of a double rainbow at the end of a stormy day. It was taken last April by Manolis Shamanos at sunset, in the island of Samos, Greece. It really looks like some kind of supernatural phenomenon. LeVar Burton explains how they form:
---
May 31, 3:30AM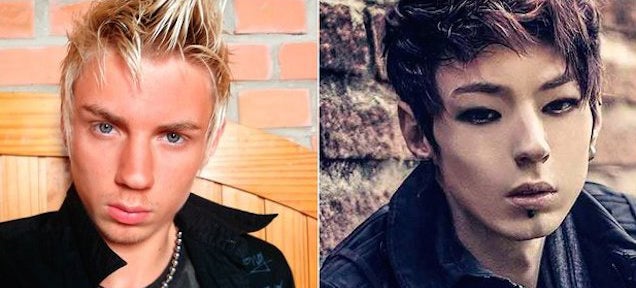 In a complete reversal of typical plastic surgeries involving Koreans, this time, a Brazilian man of European descent went under the knife and got plastic surgery to look like a Korean guy. Everybody wants to look like anybody but themselves!
---
May 31, 3:02AM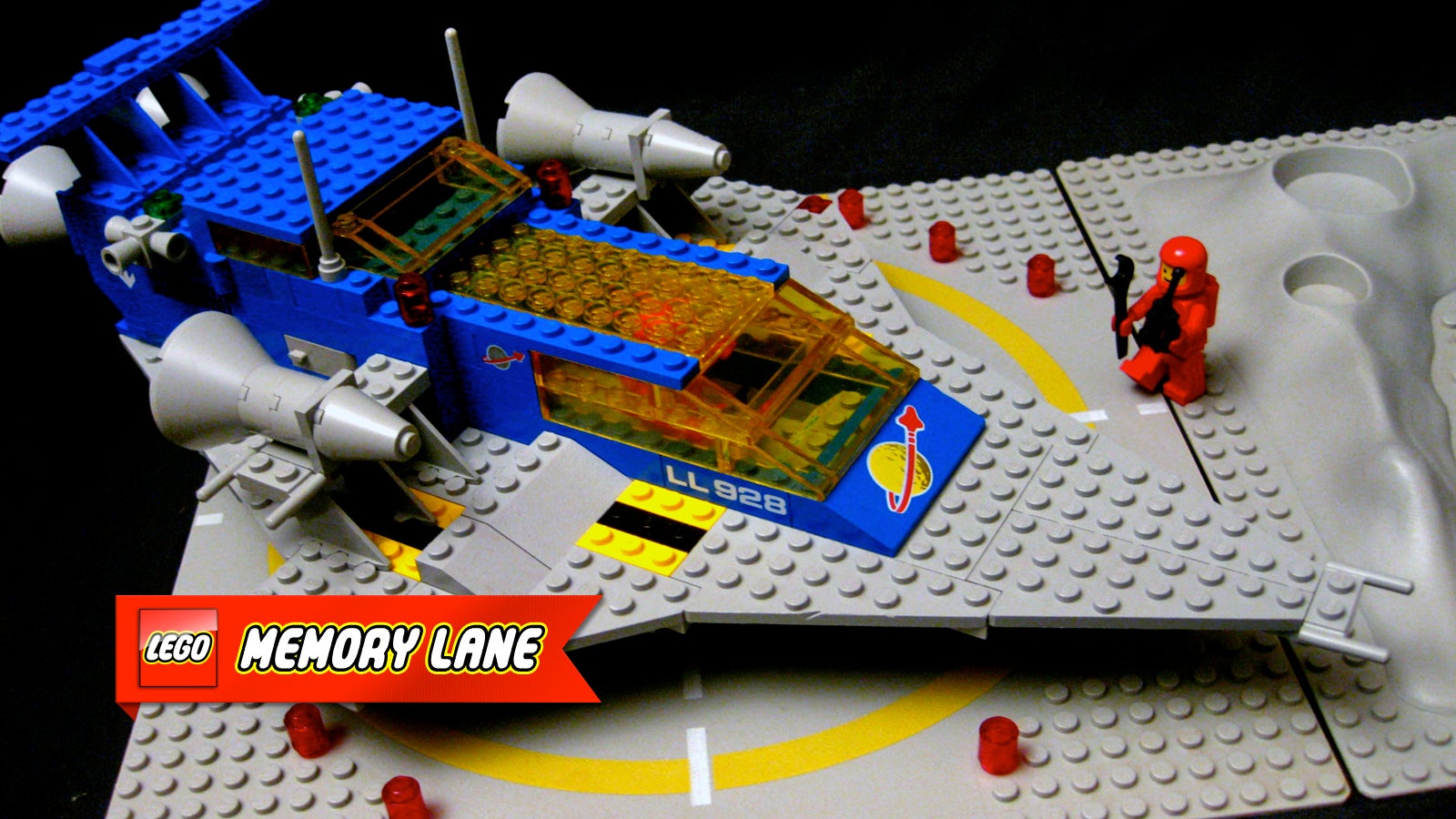 I watched The Lego Movie once again. Like the first time, I cried like a little kid. It's a good movie, but the strong emotional reaction came from deep inside, firing the same childhood memories that The Lego Memory Lane—Leg0 HQ's underground secret vault with all their sets—did when I visited it in Billund, Denmark.
---
May 31, 2:23AM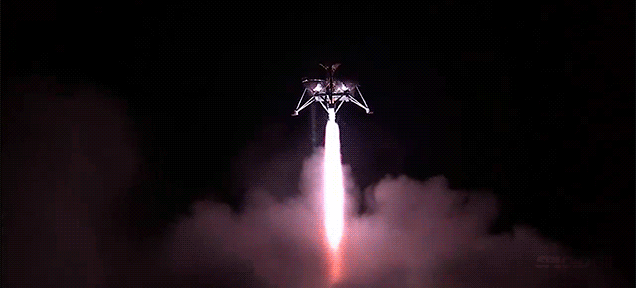 Morpheus—the otherworldly NASA's autonomous rocket lander —has been able to land in complete darkness on a rugged terrain using its Autonomous Landing Hazard Avoidance Technology. The resulting video looks beautiful, like a sequence from a sci-fi movie.
---
May 31, 1:26AM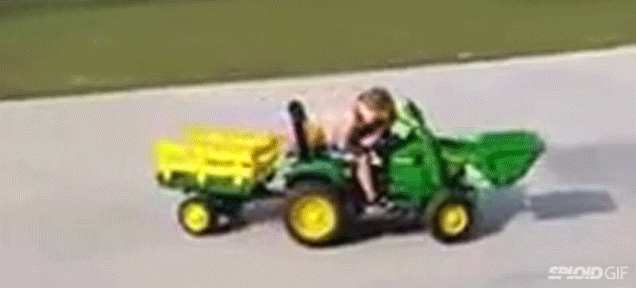 Yep, we totally understand you kid. Sometimes when the sun is beating down too hard and the day of fun has gone on a little too long and you're oddly comfortable in an uncomfortable position, you just fade away without a care in the world. It is a hammock's rest. It is ice melting in an umbrella drink. It is this kid driving in circles in his toy car because he's passed out.
---
May 30, 11:30PM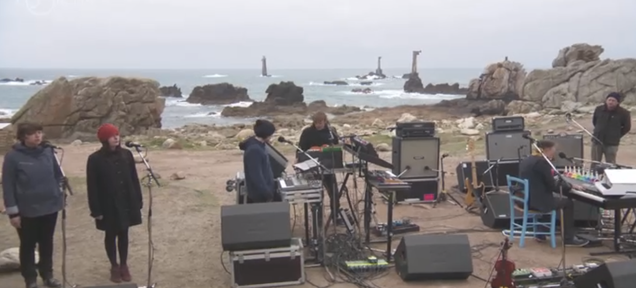 My heart still flutters when I hear pretty much any part of Yann Tiersen's lilty, lovely soundtrack for Amélie from a few years back, and I always tell myself I'll catch up with his other work. Well, it's time. Just before the French musician released his new album Infinity, he performed a "secret" concert on the shores of Brittany, and it's an hour of windy, weathered beauty.
---
May 30, 11:24PM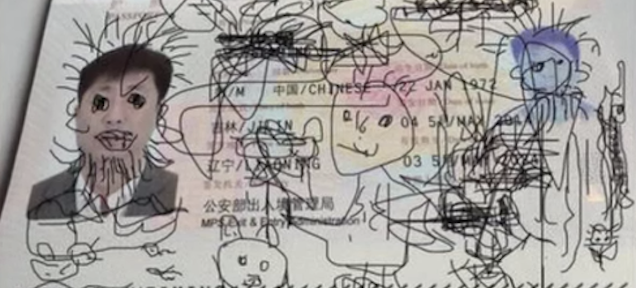 A Chinese man and his four-year-old son are apparently stuck in South Korea because his son used his old man's passport as a drawing book. Seriously. While on vacation, the kid started doodling over his Dad's passport, decorating it with human-ish and animal-ish figures, a lot of scribbles and some added flair. Cute!
---
May 30, 11:00PM

Did you guys know there is a Gizmodo subdomain where you can go for all things photographic? Yep! It's called Reframe, and it's where you'll find additional coverage of gear, techniques, news, and all kinds of great stuff related to the crafts of photography and videography.
---
May 30, 10:30PM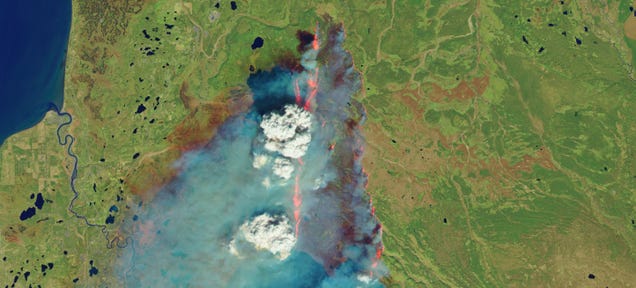 In this week's Landscape Reads, we learn all about Yellowstone's "Zone of Death," the bitter rivalry of pallet companies (yes, pallet companies), the ultimate cause behind Alaska's Funny River fire, and more.
---
May 30, 10:20PM
In the music video for his aptly-named track Arcade, M4SONIC is seen playing a custom-made arcade-style joystick that's actually a MIDI instrument. Instead of using a piano keyboard, or a rhythm pad filled with countless buttons to trigger MIDI samples, this creation let M4SONIC channel his childhood Street Fighter and Mortal Kombat skills into his music.
---
---
If at any time you'd like to stop receiving these messages, just send an email to feeds_gawker_com_gizmodo_full+unsubscribe-zeit_zeit.hightech01=blogger.com@mail.feed2email.net.
To stop all future emails from feed2email.net you can reply to this email with STOP in the subject line. Thanks